Featured Products
Regular price
$1,018.95
$1,603.12
Regular price
$2,487.95
$4,055.92
Regular price
$3,259.95
$5,315.12
Sidebar
Welcome to our store Lounge Out   

Thanks for stopping by ...

We are an independent online retailer bringing to market only the best and latest in home, decor, furniture, sports & fitness, gadgets, and accessories. We offer the highest quality products at the best prices sourced from our local Australian suppliers! Shop a range of quality goods in lounges, wearable devices, appliances, bedroom, bathroom & much much more.  

We pride ourselves in delivering quality, believing that serving our customers with a level of satisfaction is our number one responsibility with every purchase made at Lounge Out you will not be disappointed. It's with this purpose we aim to become the online store of choice for all your latest gifts, providing only the best products from Australia including world-class customer service. 
 
Here at Lounge Out, we aim to provide: 
The Latest Market Trends 
Affordable Pricing 
Quality Products & Gifts   
FREE Domestic Shipping 

Rest assured you are buying with confidence from Lounge Out, we are here to make your shopping experience enjoyable and easy. Let us do the hard work for you and find you what you want for a better tomorrow! 

Description:


With little effort, this portable espresso machine helps you prepare amazing shots, with a quality close to that of a traditional machine. Don't give up your daily pleasure while far from home - enjoy a delicious espresso anywhere, anytime.


Coming from the legacy of one of the most creative and innovative portable espresso machine, Nanopresso redefines the genre and sets new standards.
 
Incredibly beautiful and elegant, it looks every bit as powerful as it is.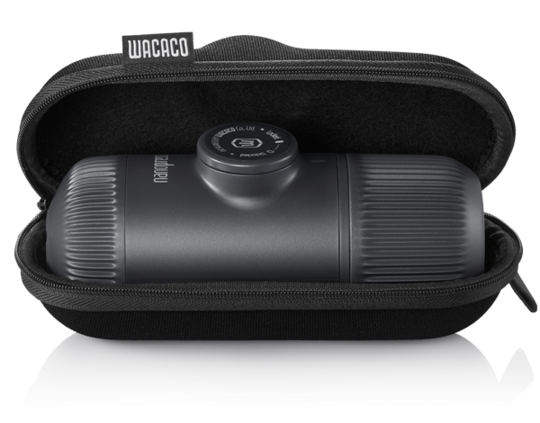 Packed with new features and capabilities, which will drastically improve the way you prepare your favourite coffee, Nanopresso is one of the best and most versatile espresso machines.
A truly unique addition to your coffee toolkit!

This really IS your Essential Piece of Brewing Equipment that you can TAKE ANYWHERE!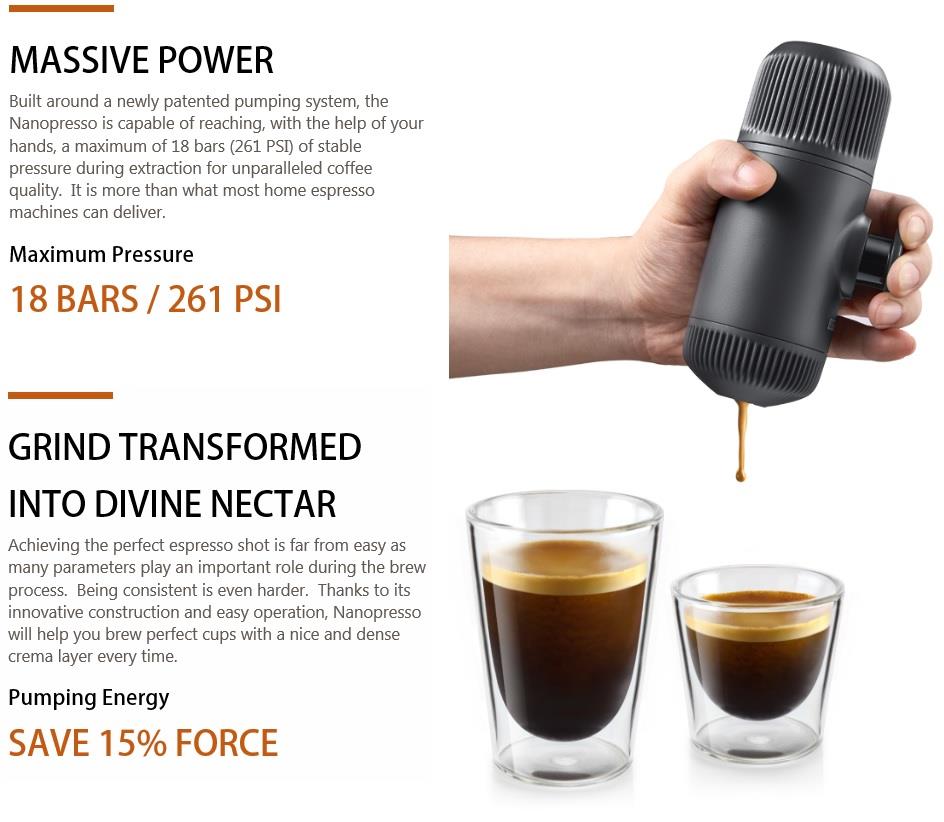 Experience the pleasure of drinking high quality espresso, from the first sip to the last drop, wherever you are.
All you need for your next shot is ground coffee, hot water and the Nanopresso.

EASIER THAN EVER


The Nanopresso works best with finely ground coffee that is tamped hard. It is delightfully easy to operate and simple to use. The Nanopresso requires 15% less force to pump compared to previous models. With Nanopresso, the power is in the machine, not in your hands.



Pumping Engergy


SAVE 15% FORCE

THE SMALLEST




Nanopresso's ergonomic design and shorter length makes it your travel companion of choice. Easy to hold and easy to pack!





Overall Length


15.6 CM / 6.14 IN

EVEN LIGHTER




At just 336 grams, Nanopresso is engineered to be extremely light. Yet, designed to go wherever you go, its construction delivers a reassuringly solid feel.





Weight


336 GR / 0.74 LB

MORE WATER CAPACITY




Nanopresso water tank can hold up to 80ml of water. It's lined and protected by the detachable cup. Both parts feature a heatsink pattern to absorb and protect the hands from the heat.





Water Tank Capacity


80 ML / 2.70 FL OZ

NEW PORTAFILTER DESIGN




After each shot, Nanopresso maintenance takes only few seconds. When necessary, all components of the portafilter are easily separated for deep cleaning.





Special Feature


EASY CLEANING

PROTECTED FROM SCRATCHES




Nanopresso Case is made of durable EVA material and soft fabric interior lining. It is specially designed to fit around the Nanopresso and helps protect it.





Maximum Protection


HARD CASE INCLUDED

SPECIFICATIONS




Dimension

156 x 71 x 62mm




Weight

336 g




Water capacity

80 ml




Ground capacity

8 g




Max. pressure

18 bar




Package includes


Nanopresso, protective case, built-in espresso cup, filter basket, scoop, brush, multi-languages instruction book, warranty card and two stickers.



Special Feature


EASY CLEANING

BARISTA KIT

The Barista Kit is a set of accessories packed in a small container. It expands the Nanopresso capabilities by giving you the possibility to prepare double espresso (16 grams of ground coffee) up to 120ml.


Thanks to its high pressure extraction of 18 bar, Nanopresso takes full advantage of the larger filter basket. Coffee lovers will be pleased to enjoy unbelievably rich espresso, absolutely perfect to prepare tasty latte and cappuccino.


The double espresso basket is a unique feature that can not be found in any other portable espresso machine.

Dimension 150 x 62 x 62 mm

Weight 270g
Note Barista Kit can only be used with

the Nanopresso.
Package includes
* Large water tank (140 ml)
* Larger espresso cup

* Two double espresso filter baskets (16g of ground coffee

with cap
* One single espresso filter basket (8g of ground coffee)

with cap
* Double espresso adapter ring
* Tamper
* Instruction book (English/Chinese).
How good is the extraction?
Customers' feedbacks and reviews from professionals prove our patented portable espresso machines are just amazing. The top qualities of our devices have conducted them to their popular and commercial success. With Nanopresso, we have reached another level of excellence. The extraction is just unbelievable. As a professional machine, to get the most from it, you will have to work harder on the grinding. Once you get it right, you will enjoy the most delicious espresso shot.
Does Nanopresso use a pressurised head?
Yes it does, but the system can easily be disconnected. The pressurised head helps to improve consistency and extraction when a less precisely ground coffee is used. It offers to user a simple setup and frees him from the hassles of learning the subtleties of espresso brewing. Coffee enthusiasts will be please to know that Nanopresso can also be used as an authentic espresso machine, without the pressurised head system. When used in a non-pressurised mode, to achieve the best results you need to fine-tune the grinding. Correct tamping also play an important role in the extraction.
Does the pumping require a lot of force?
Nanopresso require 15% less power to push the pumping knob. At 18 bar pressure (261 psi) you will need to press the knob with a force equal to 13 kg (28.66 lbs). To easily apply that force, we recommend holding Nanopresso with two hands as instructed in our user guide.
Does the pressure drop between pumping?
Absolutely not! Once the pressure has been built up, it remains very stable during the whole extraction process.
Does Nanopresso heat up water?
No! To prepare a hot espresso, you will have to fill the water tank with boiling water.

Does Nanopresso include some accessories?
Nanopresso come in standard with one single filter basket (8 gr of ground coffee). The double filter basket (16 gr of ground coffee), the NS capsules adapter and the large water tank are sold separately.
Is Nanopresso dishwasher safe?
No it isn't. We recommend washing under running water the scoop, the brush, the cup if used, the portafilter, the filter basket and the area of the main body where the filter basket is positioned. Clean the other parts with a humid cloth. After cleaning, let all Nanopresso parts dry separately.
Is Nanopresso tank microwave safe?
PP materials are usually safe for microwave use. But boiling water into a PP container maybe riskier as the temperature will rise above 100°C. It would be safer to use glass container to boil water in the microwave. Considering this, we do not recommend using the Nanopresso water tanks to boil water in the microwave.

Does Nanopresso comply with safety approvals?
Complies with major international safety approvals (FDA, EU, RoHS, LFGB, GB) regarding food contact materials. Plastic materials, in contact with food, used in the manufacturing of the Nanopresso are listed BPA free. 
Does Nanopresso have a warranty?
 We warrant the Nanopresso against defects that are due to faulty materials or workmanship for a period of 12 months from the date of purchase.  
Here at Lounge Out, we want your experience to be as simple as possible, providing a free delivery service to major eastern cities like Brisbane / Melbourne / Sydney / Gold Coast / Canberra / Adelaide.  
All orders are subject to a handling period before shipment, usually 1 - 3 business days.
Please take care when placing orders. Customer service is our highest priority however we process large volumes of orders every day and due to the nature of our automation in most cases we are unable to stop an order shipping once the order is placed.
Lounge Out can not be held responsible for items shipped to incorrect addresses provided by the buyer. In such cases, the buyer will be responsible for any additional shipping fees incurred to ship to the correct address.
After your order has been placed one of our friendly staff will send you a tracking number or will call you on bulky items and arrange a suitable delivery time.
We pride ourselves on customer service and will endeavor to do our best to deliver your new lounge at a convenient time.
SHIPPING GUIDE
Orders are generally shipped from either our distribution center's located across Australia or from our international warehouses located in United States, United Kingdom, Europe or China. 
Australian stock e generally see these delivered within the similar shipping time frames as domestic however these can take between 8-14 days for arrival to your address. 
Any international shipments will be detailed in each listing for your reference.  
For your protection we offer free transit insurance on all orders. Should your item arrive damaged please let us know so we can provide you with the claims procedure. 
Returns of larger items can be very expensive so please choose carefully. We are here to help with any questions you may have prior to ordering. 
We work with a number of logistic companies however with three couriers we rely on to provide the most efficient delivery service with the most reasonable pricing and quickest service nominated below:
AUSTRALIA POST
Items that weigh 22 kg or less will be dispatched with eParcel which is Australia Post's Internet enabled freight system.
Each parcel will carry a barcoded address label and you will be able to view the location of your item at various points in the delivery process via Australia Post's online tracking tool.
When your order is dispatched, you will be given a consignment number. 
Please visit http://auspostcom.au/track/ and use the tracking number given to track your item.
FASTWAY COURIERS
For items that weigh below 22kg with a lower cost than eParcel, the item will be dispatched with Fastway. You will receive an email confirmation of your order including a tracking number, as soon as your orders are dispatched. Fastway provides reliable courier distribution service across Australia. Their comprehensive fleet and professional team will ensure items delivered safely to your door.
Parcels dispatched with Fastway are collected from our premises on a daily basis. Each parcel will carry a barcoded address label and you will be able to view the location of your item at various points in the delivery process via Fastway's website.
A non- PO Box address is required for Fastway's delivery. If you fail to provide the correct information, your parcel will not be dispatched until the accurate information is received by our customer service team.
To track item that is dispatched width Fastway, please visit http://www.fastway.com.au and use the given tracking number.
ALLIED EXPRESS
Parcels that weigh over 22 kg will be dispatched with Allied Express. Allied Express is the biggest and independently owned courier company in Australia with offices in all major mainland capitals.
Each parcel will carry a barcoded address label and you will be able to track you items through the Allied Express website. Allied Express will contact you prior to delivery via SMS or phone number.
Allied Express requires consignment note and the postcode of the destination to track item at http://alliedexpress.com.au/ or call 131373 for more queries.
Undeliverable Packages
In the unlikely event that your parcel is to be returned to us, our customer service representative will contact you via email.
Inaccurate address
If there are any address discrepancies with your order the product is returned us, a customer care team member will be in touch.A re-delivery cost will occur for any products that are returned to us.
Unsuccessful Delivery Attempt
If no one is present when the order arrives and it is being delivered by Australia Post, a notification will be left in the mail box for you to pick up your parcel in your local Post Office. If your item is delivered by Fastway or Allied Express, arrangement will be made in advance to ensure your item to arrive at your door at your convenience. A re-delivery cost will occur if you are not home at the arranged time.
Rejected by Receiver
If your item is a gift, please ensure the receiver knows about it to avoid parcel rejection. A re-delivery cost will occur if parcel has to be resent.
The expected time delivery given by each courier is for reference only. Delivery might take longer than expected due to various
reasons. If you do not receive your item within 10 business days, please contact our customer service team.
Pick up or arranging your own courier is not available at our warehouse to ensure our distribution center can dispatch all goods efficiently at all times.
Due to the limited access of our freight carriers, there are certain bulky products such as furniture and appliances that can not be delivered to post codes listed below.
We try our best to include all the undeliverable postcodes on this list, however, there might be some that have not been captured and we will notify you if we are unable to proceed with your order.
We ask you to please email support@loungeoutaus.com for a detailed check to see if your item can be delivered to regional address. If we an order is placed and we cant deliver all fees associated with refunds will be deducted from purchase. 
All orders with no available shipment service will be cancelled and refunded immediately.
Please kindly contact our customer service for more information if you need the item to be delivered to remote areas to ensure your order can be processed successfully.
| | | |
| --- | --- | --- |
| Postcode | State | Suburb |
| 5701 | SA | WOOLUNDUNGA |
| 6740 | WA | DRYSDALE RIVER |
| 6740 | WA | MITCHELL PLATEAU |
| 6740 | WA | OOMBULGURRI |
| 6740 | WA | KALUMBURU |
| 6740 | WA | PRINCE REGENT RIVER |
| 6740 | WA | WYNDHAM |
| 6743 | WA | WARMUN |
| 6743 | WA | CAMBRIDGE GULF |
| 6743 | WA | LAKE ARGYLE |
| 6743 | WA | DURACK |
| 6743 | WA | GIBB |
| 6743 | WA | KUNUNURRA |
| 6799 | WA | Home Island Cocos (keeling) Islands |
| 6799 | WA | West Island Cocos (keeling) Islands |
| 7151 | TAS | HEARD ISLAND |
| 7151 | TAS | DAVIS |
| 7151 | TAS | MAWSON |
| 7151 | TAS | MACQUARIE ISLAND |
| 7151 | TAS | MCDONALD ISLANDS |
| 7151 | TAS | CASEY |
Bulky items
| | |
| --- | --- |
| State | Postcode |
| NT | 0800-0999 |
| NSW | 2641,2717, 2831, 2898, 2899 |
| QLD | 4184, 4421,4450-4499, 4680, 4700-4805, 9920-9959 |
| QLD | 4806-4899, 4900-4999, 9960-9999 |
| SA | 5701 |
| WA | 6055 |
| TAS | 7151 |
| WA | 6215-6699 |
| WA | 6700-6799 |
When We Deliver
We will always call you well in advance to make sure someone will be home. In most cases our drivers will need assistance getting the sofa off the truck so please have someone home to assist. Delivery is to your door, if you are unable to assist the driver or need assistance into your house or upstairs into an apartment, please contact Lounge Out to arrange.
5 Working Day, Risk-Free Returns.
We guarantee your complete satisfaction and want to make sure you are happy with our purchasing experience. If you have changed your mind on an item, no problem - we make returns easy.
You can return your product within 5 Working days of delivery. To be eligible for return, sofas must have tags attached, be in their original, sealed factory wrapping, and be in sanitary condition, clean, free of any damage, burns and stains of any kind. 
To get the item back to us you will have to carefully repack the item in the original packaging materials, arrange and pay for return shipping. The item must arrive at our warehouse within 14 days of the initial delivery date.
We will then refund you the amount subject to a 20% restocking fee and delivery costs via the same method you used for the initial payment.

For full details of our terms and conditions please read our terms and conditions page which can be found by clicking here or during the checkout process.
120 Night Risk-Free Returns Mattresses
We guarantee your complete satisfaction and want to make sure you are happy with our purchasing experience. If you have changed your mind on an item, no problem - we make returns easy.
You can return your product within 120 Nights of delivery. No Catch's, No Gimmicks, No Tricks. Simply send us an email explaining the reason for the return so we can learn how to improve our products and we will organize a 100% FULL refund on your mattress.